Are you looking for the perfect tool to organize and hold all the stuff in your backpack, than look no further! As we've just launched the "Adaptable Organizer". This brand new release will help you sort out your items once and for all.
It's the perfect addition for your SOLID GRAY backpack to keep your stuff organized. Shield your laptop and keep your everyday and not-so-everyday items sturdy in place using the customizable elastic grid. Rearrange the item grid in any way you want to create the perfect setup for your personal kit!
How does it work?
The Adaptable Organizer is a special sheet, made from the same material as the Polymer Edition backpacks. It has a folding line on the top part, making it possible to access the space behind it. Using that as a place to store and hold your laptop or tablet.
The most important feature is the customizable grid. A clever grid of holes is scattered across the Organizer. These can now be used to weave a custom elastic grid taylored to your needs. Off course, the Organizer will arrive with a pre-set weave to accommodate the most commonly used items. Such as phones, keys, wallets, power banks, deodorant, cables, water bottle, cards, usb-drives, portable hard disks, etc.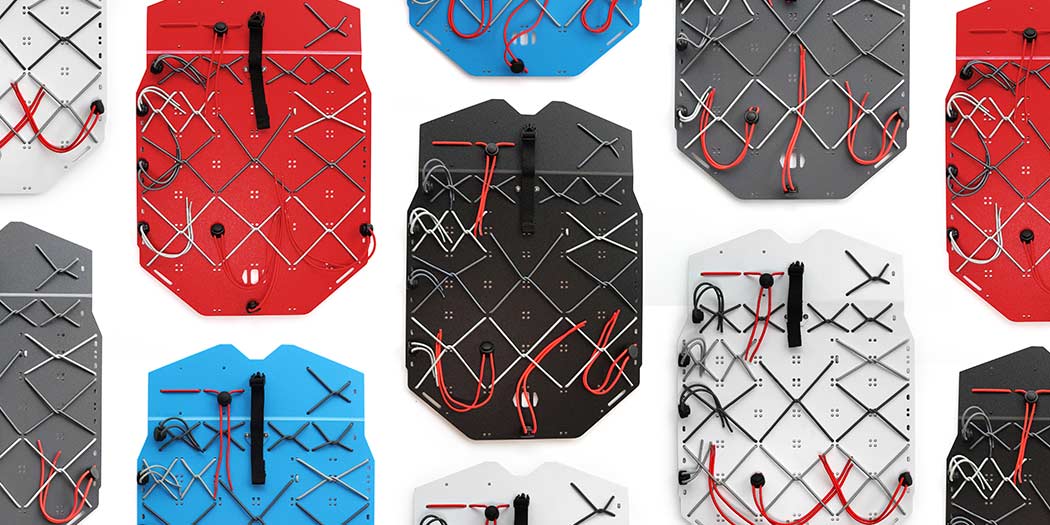 Will it organize everything in my backpack?
It will surely organize all the most important things you need. An EDC list such as this one, will not be a problem. Weather it is camera equipment, a survival gear set up, creative tools or a full tech set up. All these things can find their place in the Adaptable Organizer.
One other nice feature is the elastic "quick release" cords. Those will function best to hold bigger items, such as water bottles. Most importantly, they make these items very easy accessible and easily placed anywhere on the grid.GET