A plastic backpack made from high tech polymer material.
Unique construction, folded from a single sheet.
Advanced CNC manufacturing, and detailed manual assembly.
A PLASTIC HARDSHELL BACKPACK
The plastic backpack by SOLID GRAY® is not your ordinary backpack. In fact, this hardshell backpack is unique in a lot of ways. The cornerstone of our highly innovative backpacks are the special materials we use to make them. In case of our Polymer backpack, we use a high tech polymer plastic.
NO ORDINARY PLASTIC BACKPACK
The plastic used is very specific, and custom produced for SOLID GRAY®. Any other kind of synthetic material would break. This special type of plastic actually becomes stronger with every time you fold it, by forming everlasting hinges. (If processed in the proper way off course.)
It's a very tough and durable kind of polymer plastic, not commonly used to manufacture consumer goods. The designers behind this iconic backpack took inspiration from its unique features to create this revolutionary kind of plastic backpack. It's probably not like anything else you've ever seen.
BACKPACK INNOVATION
Backpacks manufactured from synthetic material are not something new. However, a backpack constructed from a single sheet of material like this one definitely is. This unique design also triggers the need for unconventional production methods.
We make use of high tech CNC machinery combined with manual assembly. A rather perfect combination between man and machine to create a product that celebrates that fusion. Resulting in a high tech product with the detail and appearance of a hand made product. A serial number on each backpack makes for a final touch, symbolizing the attentions spent making it.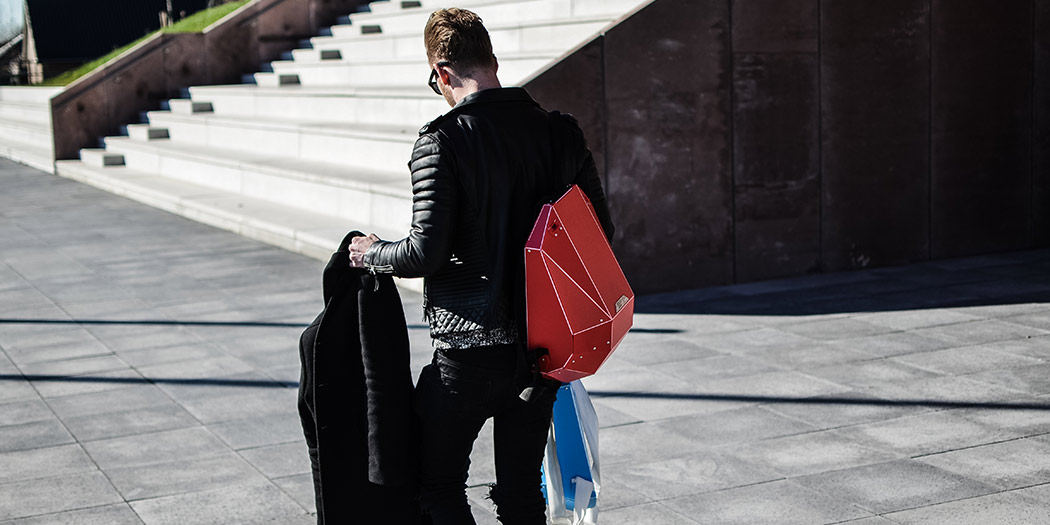 MECHANICAL SYSTEMS
This hard-shell plastic backpack provides a "canvas" for other innovations. Which are generally not possible with conventional backpacks. Since this plastic backpack provides a stiff and rigid frame it enables other ways to work with a backpack as a whole.
For instance, you would not be able to add hard snapping locks to a soft fabric backpack. However, this plastic backpack provides stiffness to make such a feature work. Other examples of unique features are: exchangeable straps, a hidden handle, an adaptable organizer, a backpack stand and a wall mount.