INSPIRED BY ANIMALS, NOT MADE FROM THEM
A vegan backpack made from hi-tech artificial materials.
No animal cruelty involved in the production at all.
Utmost care for environment and working conditions.
A MODERN VEGAN BACKPACK
When you think about vegan backpacks, design may not be the first thing that comes to mind. However, at SOLID GRAY® we have created a vegan design backpack without defaulting to materials like cotton and canvas. Even though natural materials certainly do the job, they just don't suit everyone's tastes. Fortunately, vegan fashion has come a long way and there are now plenty of other options to choose from. High-tech materials, for example, allow for radically different designs while completely avoiding the use of animal products.
DESIGN INSPIRATION
When designing our backpacks, we get our inspiration from animals like insects and crustaceans. However, when producing our backpacks we do not use animals at all. Instead, our backpacks are manufactured using high tech polymer and composite materials. Such materials define SOLID GRAY®'s clear cut futuristic style, which starkly contrasts with any other vegan design backpack on the market. In addition, these materials can be fully recycled into high-end technological materials after use. Most importantly, there's no animal cruelty involved at all in the production of any of our products; it just isn't necessary.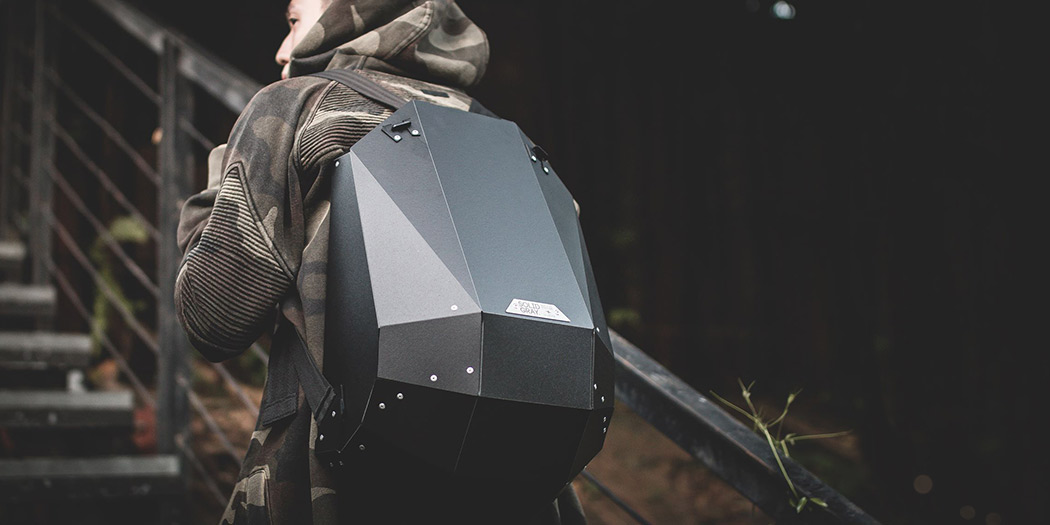 DESIGNED AND MANUFACTURED WITH UTMOST CARE
We design and manufacture our backpacks in the Netherlands to ensure we take utmost care of production quality, but also of the environment and everybody involved in every step of our production process. For example, our proudly dedicated men and women assemble each backpack in a process that takes a lot of hand work. After this they check each and every bag to ensure it is absolutely perfect. We don't just make great backpacks from an ethical standpoint; they are some of the most practical, stylish and high-quality backpacks out there. This makes SOLID GRAY® the perfect backpack for your daily commute by bike or subway; always ready to take some brutal hits for your precious gear.