Modular backpack, customizable to your style and needs.
The backpack that's just as unique as you are in every way.
The most versatile backpack out there.
THE BACKPACK YOU CAN CUSTOMIZE
The customizable backpack that's adaptable to your needs. We asked ourselves, what turns any backpack into your backpack? After all; your daily carry is as unique as you are, and your backpack should be too. This is what makes SOLID GRAY a truly unique backpack. Because of its highly versatile modular design, it allows you to customize your backpack. This way you can perfectly cater to your gear, your style and your needs.
CUSTOMIZABLE BACKPACK FOR STYLISH SOLUTIONS
Our customers are all different, ranging from architects to marketeers, and from lawyers to video editors; each and every one of them with different expectations of a backpack. This is where our accessories come in; they make the backpack highly customizable. For example, our Adaptable Organizer fits the craziest items, some pretty big ones, or many small ones, perfectly tailored to your gear. The webbing fits a host of items in its out-of-the-box setup. Better still; you can remove and rearrange the webbing, making SOLID GRAY® backpack customizable to absolutely anything. Whether you carry a drone, or need protection for your camera gear. Or maybe you want to display your art kit? Carry your gaming system? Anything goes! Read more about our Adaptable Organizer here. However, it doesn't stop with the things you carry in your backpack. You can showcase your beautiful backpack on one of our versatile Backpack Stands, or use it as a locker using our Wall Mount.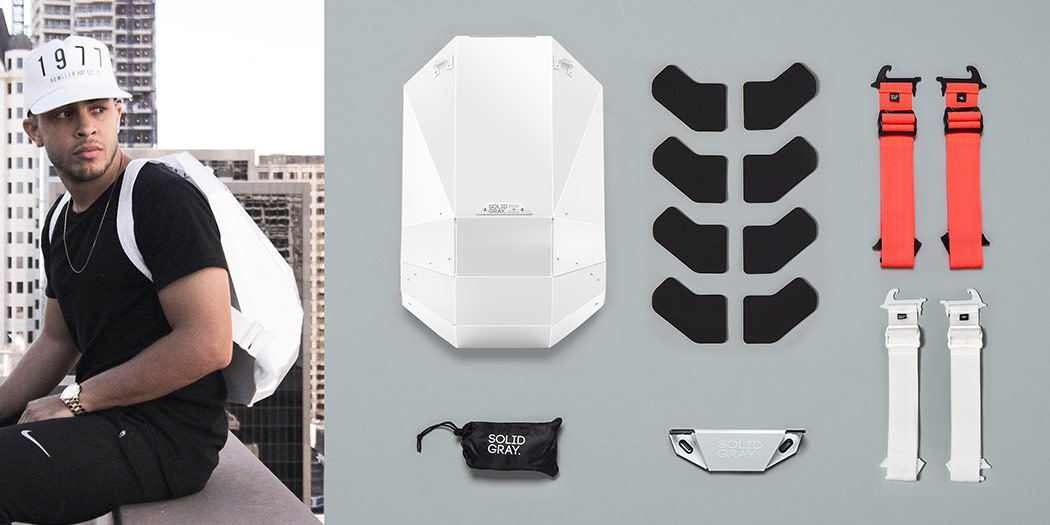 STYLISH OPTIONS
For style, choose between different materials and colors to customize your backpack. For example, if you prefer slick and subtle, check our Stealthy Black Polymer Backpack. Spice things up with Bold Red straps, or go crazy with fluorescent Neon Jungle, to make your pack pop. A range of Switch System Straps allow you to change every day, adaptable to make your backpack match your daily choice of sneakers. Choose from one of our suave matte Polymer Backpacks, or check out our flagship Aluminium Backpack. Glossy and ultra light; for those that want the peak of style and performance. Above all, make sure your pack is as unique as you are, after all, it's a customizable backpack for a reason.